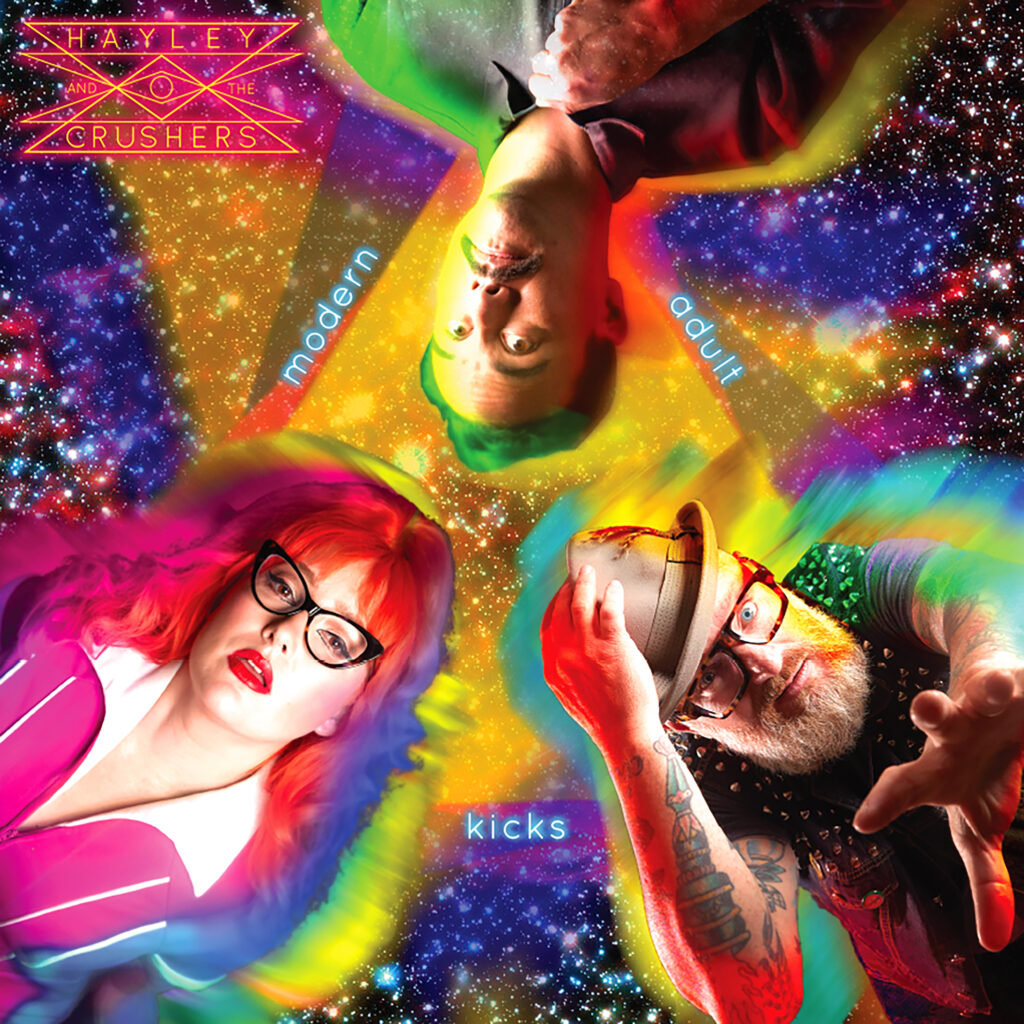 Hayley and the Crushers – Modern Adult Kicks
Punk and rock n' roll reviews from Lord Rutledge and friends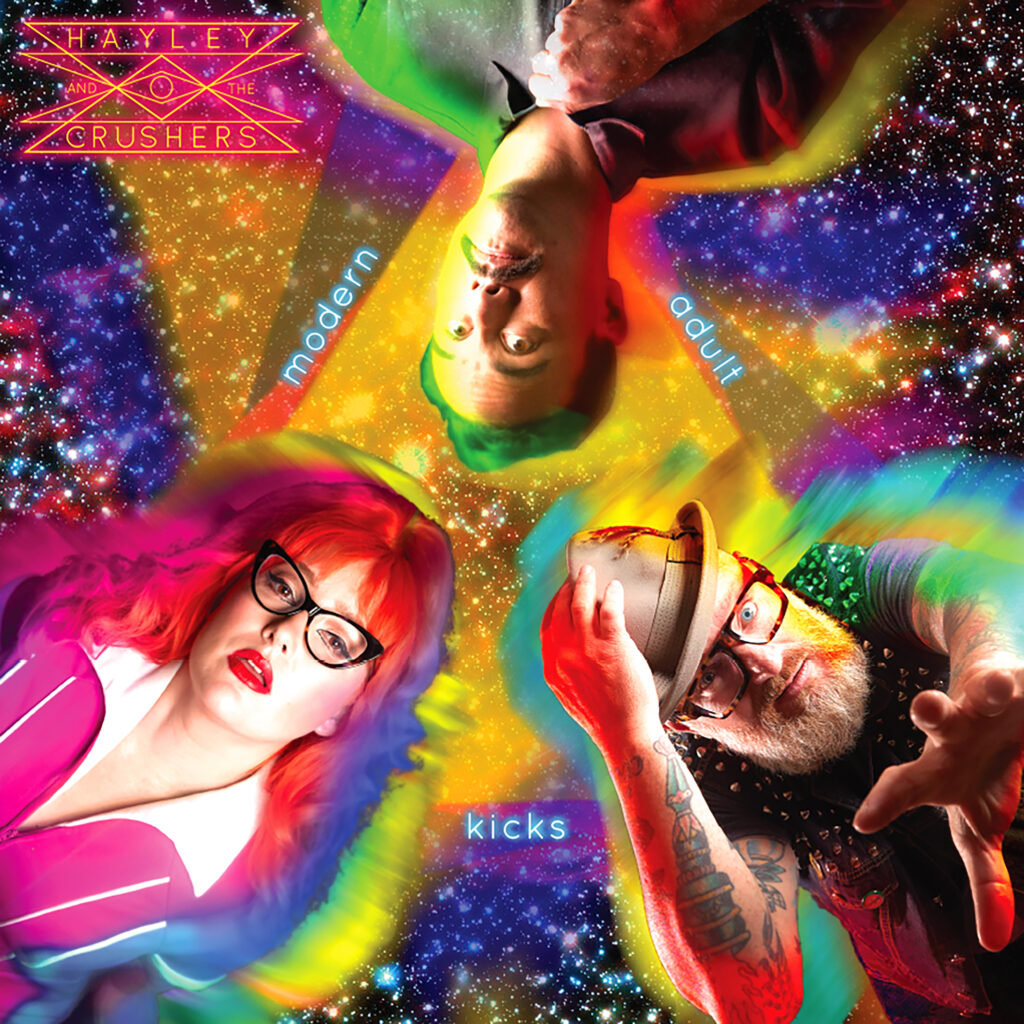 Hayley and the Crushers were already one of my favorite bands. So it feels a little strange for me to say they've made an album that completely blows away everything they've done before. But sure enough, Modern Adult Kicks (out today on Kitten Robot Records) is a next-level step for the now Detroit-based Crushers. This album, my friends, is everything. Remarkably, the band has managed to make a very serious album without losing the fundamental joy of the Crushers experience. If you're putting on this record with expectations of punk, pop, and fun, you will not be disappointed. But it's a different kind of fun on this record — one that the band has pulled off marvelously.
As the title suggests, Modern Adult Kicks finds Hayley and the Crushers fully embracing maturity. That can be the kiss of death for a punk-pop band, but the "grown-up" Crushers are truly the best version of themselves. Of all the pandemic inspired albums I've heard over the last two and a half years, Modern Adult Kicks is definitely my favorite. It's not necessarily about the pandemic, but it was inspired by all the heavy real-life stuff the band members went through post-COVID. Songs on this release address themes such as isolation, disappointment, addiction & co-dependency, longing, disillusionment, and just general angst. At a time when almost all of us have been "going through some shit," this album has the feel of the Crushers giving the world a great big hug and telling us that it's okay to not be okay (but to always keep dancing!). As I ponder how I've largely suppressed my own pandemic anxieties for the past 30 months, I find myself really feeling Modern Adult Kicks. I was either going to have this album in my life or one day randomly have a breakdown in the cereal aisle at Target.
One thing that I appreciate about Modern Adult Kicks is how perfectly the Crushers' recent singles ("Cul de Sac," "She Drives," "Click and Act Now!") fit in with the album as a whole. I remember hearing "Cul de Sac" for the first time and thinking, "Wow, this is an amazing new direction for the Crushers." Now I'm hearing the fulfillment of this direction on Modern Adult Kicks, and I'm blown away. Working with legendary producer Paul Roessler, the band has achieved a timeless yet modern new wave pop-rock sound that demonstrates that a punk band can grow up and still be, you know, punk! And with Roessler's support, Hayley Cain has elevated her singing talents to new heights. Vocally, she taps into emotions ranging from sorrowful to angry to tender to wistful to wicked to feisty — and every note rings true. Hayley and the Crushers have always had a knack for writing those immediately catchy pop songs, but Modern Adult Kicks is full of tunes that slowly and sneakily get into your bones. The album's absolutely perfect side 1 culminates with two such songs: the intensely emotional "Broken Window" and the deeply yearning "I Fall." The aforementioned "Cul de Sac" and "She Drives," exceptional singles in their own right, take on a new power within the flow of this album.
As serious of an album as Modern Adult Kicks is, it's not without its lighter and brighter moments. "Click and Act Now!", which hilariously skewers late night TV infomercials and shady product pitchmen, will have you starting a mosh pit in your own living room. "California Sober" pokes fun at people who get high and call it "spiritual." "No Substitute" is a wonderfully uplifting cover of The Shivvers' power pop cult classic. "Overexposed" is a reflective and nostalgic recollection of the heyday of online chatrooms. Altogether, this album is as advertised. It finds Hayley and Dr. Cain navigating growth, change, and the sometimes unpleasant realities of adult life in this post-pandemic world. And yet that light that Hayley and the Crushers have always emitted shines as brightly as ever. They are here to remind us that when real life knocks us down or sets us back, our best choice is to keep grinding and hold on to hope. The irony of 2020-21 being such a tough spell for the Crushers is that it was also when Josie Cotton recognized their talents and welcomed them to her record label. The Crushers have benefited greatly from working with a label and producer that fully "get" them. Combine that with a heavy dose of real-life inspiration, and you've got a formula for something special. I can't even name a favorite song off this record because I have a different one every day. If "maturity" for Hayley and the Crushers means such things as emulating Pat Benatar and writing songs inspired by Ira Levin novels, then I am all about it. Get your Modern Adult Kicks on blue-raspberry vinyl while supplies last!
https://hayleyandthecrushers.bandcamp.com/album/modern-adult-kicks
https://kittenrobot.com/product/hayley-kicks/
https://www.hayleyandthecrushers.com/
https://www.facebook.com/hayleyandthecrushers
https://www.instagram.com/hayleyandthecrushers/
https://www.youtube.com/channel/UCLDJXUZWUeuhu_6UHcF32Og
https://kittenrobot.com/
https://www.facebook.com/kittenrobotrecords
https://www.instagram.com/kittenrobotrecords/