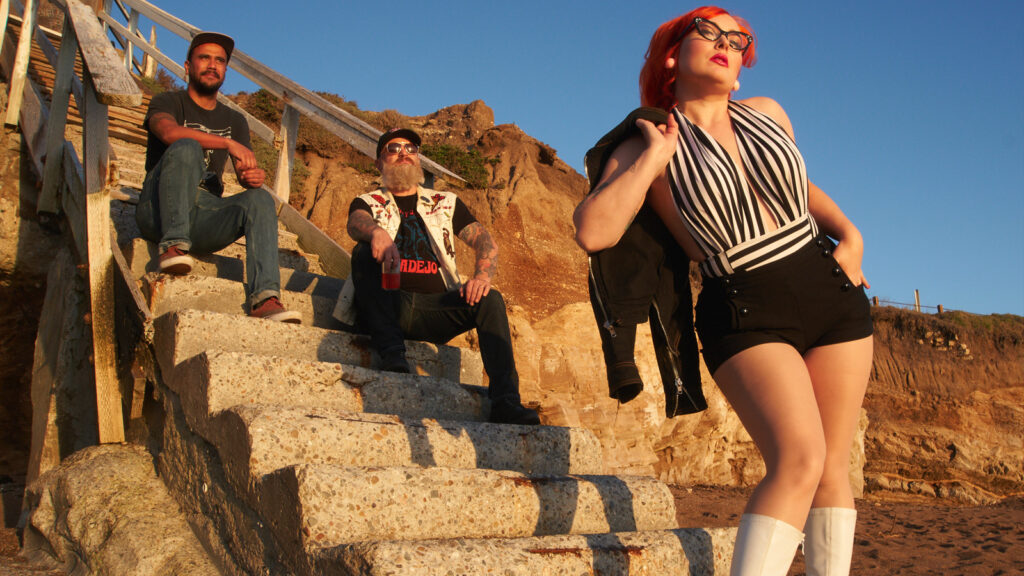 VIDEO PREMIERE: HAYLEY & THE CRUSHERS, 'CUL-DE-SAC' ON BUZZBANDS LA
San Luis Obispo's Hayley & the Crushers come at you with a wallop and a wink, churning out old-school, sweet/tart power-pop while dressed like they'd found the thrift store you've been looking for your whole life. "You know how after a really good party, you have to scrape up all the stuff at the bottom of the pool?" says singer-guitarist Hayley Crusher Cain. "That's us: Poolside glitter trash."
Signed to New Wave heroine Josie Cotton's Kitten Robot Records and working with stalwart L.A. punk producer Paul Roessler, the group — Cain, bassist Dr. Cain Esq. and drummer Action Ben Cabreana — have tried to singlehandedly beat the COVID-19 pandemic into submission. Last year's full-length "Vintage Millennial" was followed by the singles "Jacaranda" and "Church of Flag." Then, last week, the exuberant "Cul-De-Sac," a rocker that's as good a metaphor as any for being stuck in one place going in circles.
"2020 was a bitch, so it's probably somewhat expected that the 'summer jams' of 2021 would be tinged with a bit of PTSD," Cain says. "My bassist and I were literally stuck hanging out in the cul-de-sac where we live. I'd walk the dog 10 times a day, waving to the same neighbors. The paranoia and despair of a global pandemic unfolding day-to-day became part of the daily ritual, like watering the vegetables. This song reflects that silent screaming feeling that so many of us now know so well."
The video, filmed by Thomas Ignatius and Curtis Campbell, was a pandemic project as well.
"Like so many practice spaces during COVID, ours became an abandoned room! So, we decided to paint the walls black and turn it into our music video set piece, instead," Cain says. "Bassist Dr. Cain hand-wrote all the 'Cul-De-Sac' text throughout the walls and we basically rigged a flashlight to shine on us while someone moved their hands in front of the light. For the vignettes, we took advantage of San Luis Obispo's brief but vivid spring colors: The rose garden at Madonna Inn (located just down the street from the cul-de-sac where we live), a pastoral hiking trail and a quirky tomb erected in our local cemetery back in the 1930s. The tomb is shaped like a pyramid and has its own strange history (I recommend looking it up if you ever come to SLO).
"We live in a sleepy coastal town midway between Los Angeles and San Francisco, and although there's not much to do around here, we jump at the chance to capture the beauty all around us in our videos. We've filmed at our favorite local hot dog place, a mid-century shell shop, the drive-in — basically, wherever inspiration strikes. One good thing about living in a small town is you can DIY to your heart's content. No one will ever try to stop you."
||| Watch: The video for "Cul-De-Sac"